Ryanair
Project type: Content Strategy / Service Design

PROJECT SUMMARY
Content strategy for flight disruptions (Delays, cancellations and diversions)
MY ROLE 
As the service design content strategist, my role was to improve current communications by auditing all content and systems, analysing user interviews, finding improvement opportunities and developing a content strategy. I worked closely with Service Design, Customer Experience and Ground operations.
PROJECT DURATION
PROBLEMS TO SOLVE
Flight disruptions are typically negative experiences for passengers, front line staff and business operations. 
When flights are cancelled, delayed or diverted passengers circumstances vary. How and when they receive information will depend on each case. Sometimes through via text, email or in persona at the airport. We needed to understand the context most passengers were in as well as their expectations, so we could identify 'what' information we needed to provide and 'how' to deliver it.
GOALS
- Reduce wait time at check in desk and call centre by providing passengers with clear options and solutions. 
- Enable customers to take action faster.
- Encourage the use of self-service.
- Reduce customer stress/frustration.
- Reduce pressure on staff / internal disruption workload.
DELIVERABLES
- Redesigned and rewritten communications (Including FAQ's, SMS. Email. verbal announcement)
- Optimised process to rebook/get a refund from communications
- Disruptions communication style guide
WHAT WE DID 
1. Stakeholder meetings and workshops
One of the main challenges of this project was the number of different departments that are affected by disruptions and are responsible for communicating information to passengers. It was important for us to understand their obstacles and requirements. We held weekly meetings and did several workshops to ensure all departments were engaged and aligned with us throughout the project. Communication consistency and governance were two of our primary goals.
2. Content and systems audit
One of the starting points of the project was to do a content and systems audit.
The purpose was to gather all the different pieces of communication. Then we analysed things like readability, tone, length, content hierarchy, links, how these pieces of content connected and goals.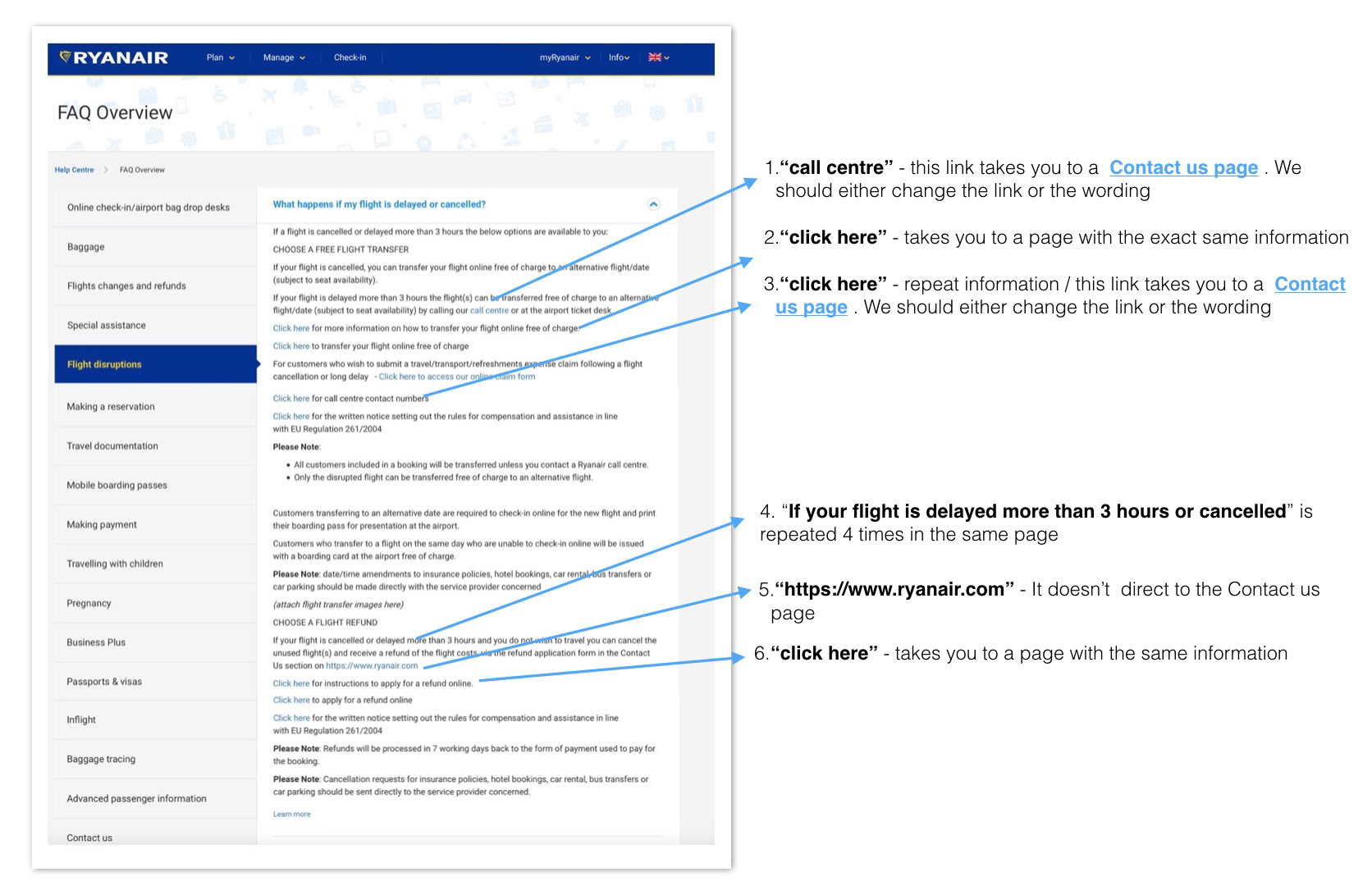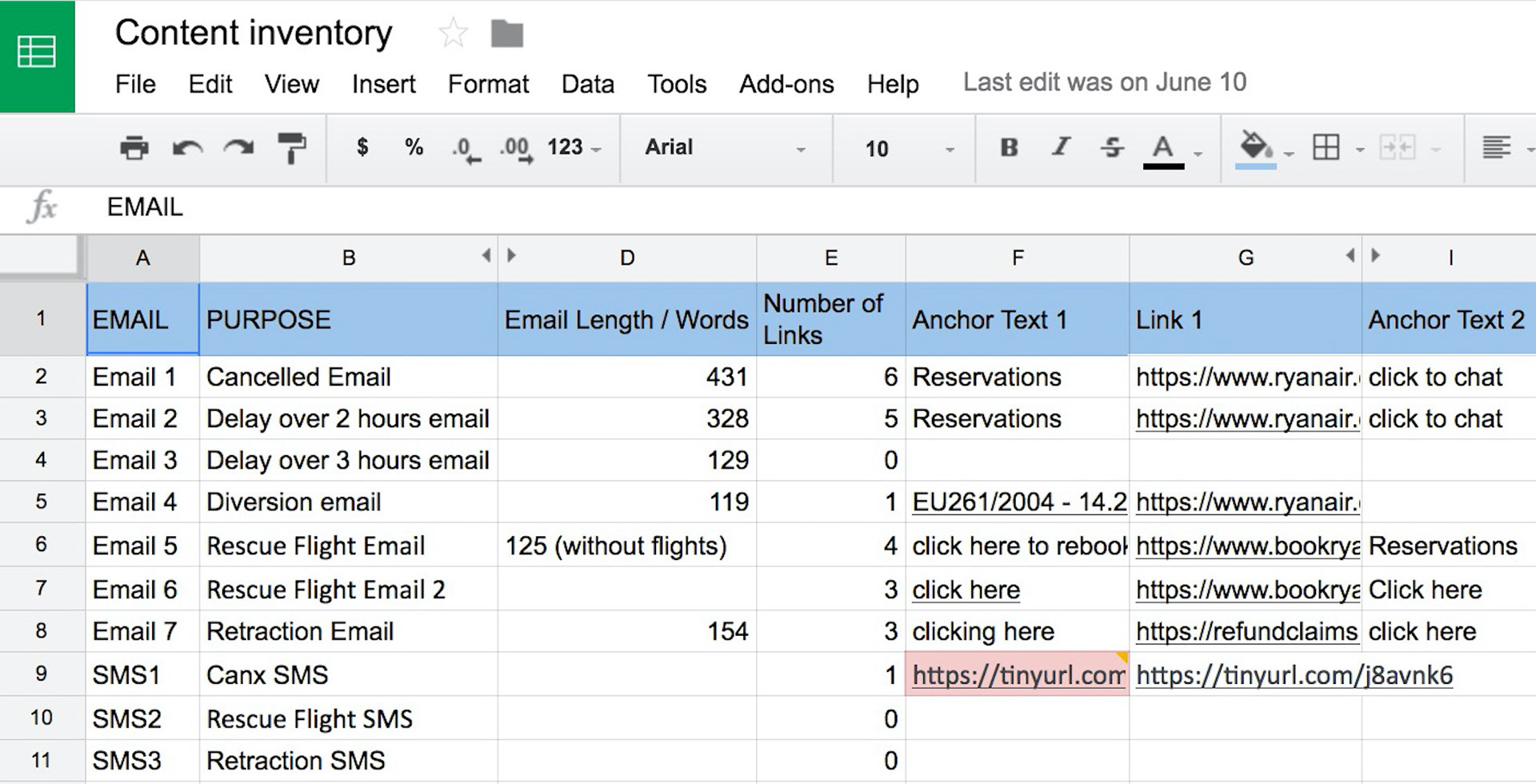 3. Passenger interviews analysis
12 passengers who had been affected by flight disruptions had been interviewed for this project.  After listening to the recordings we were able to identify many improvement opportunities. In summary, people wanted to know the reason for the disruption, what were their options were and where they could take action on their preferred choice of action. Quick, clear and easy.
Understanding what are the industry's best practices for this type of situation gave us a starting point see where we could implement improvements.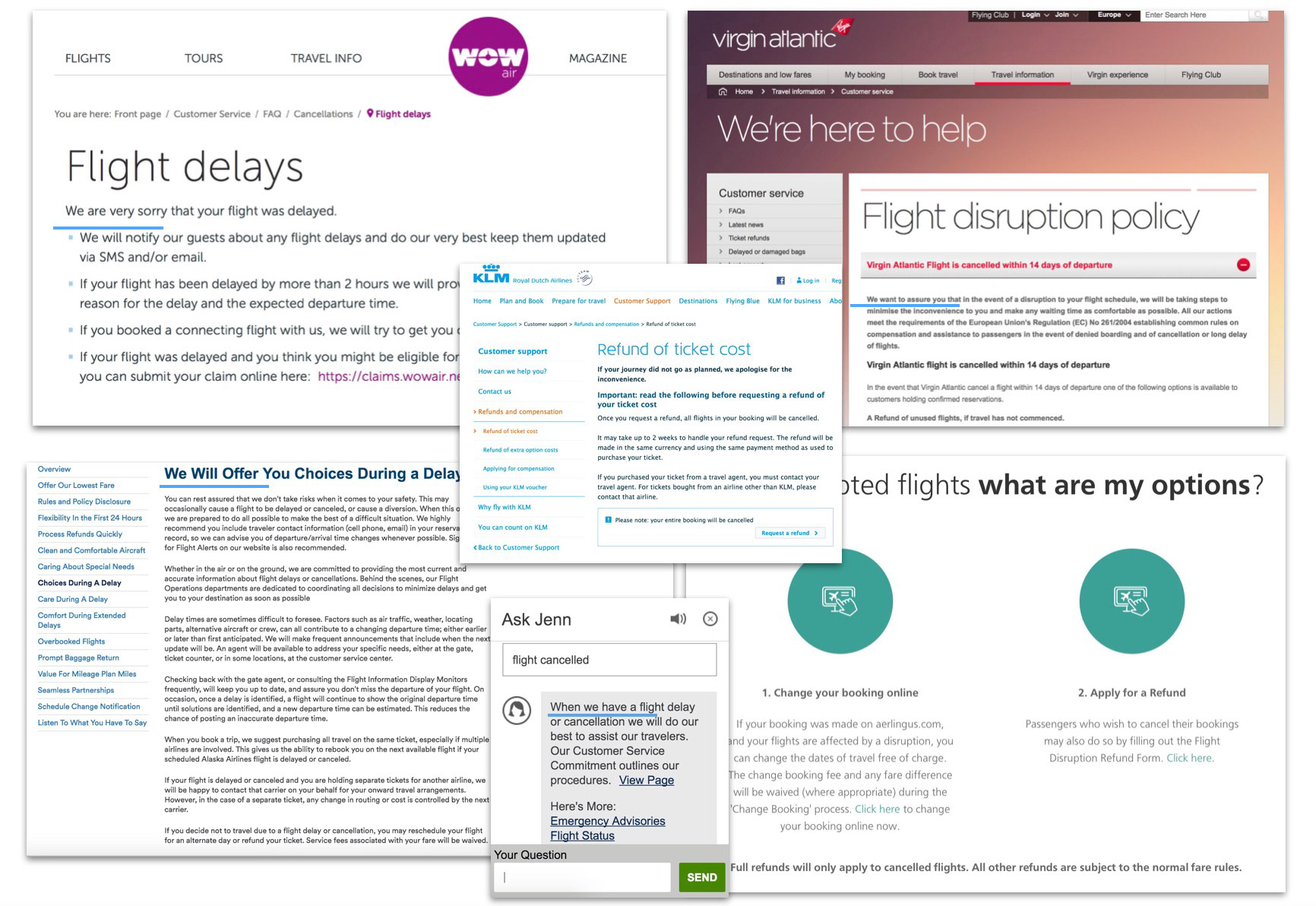 We mapped out several typical use cases to understand the process from disruption to action and to find opportunities to improve communications.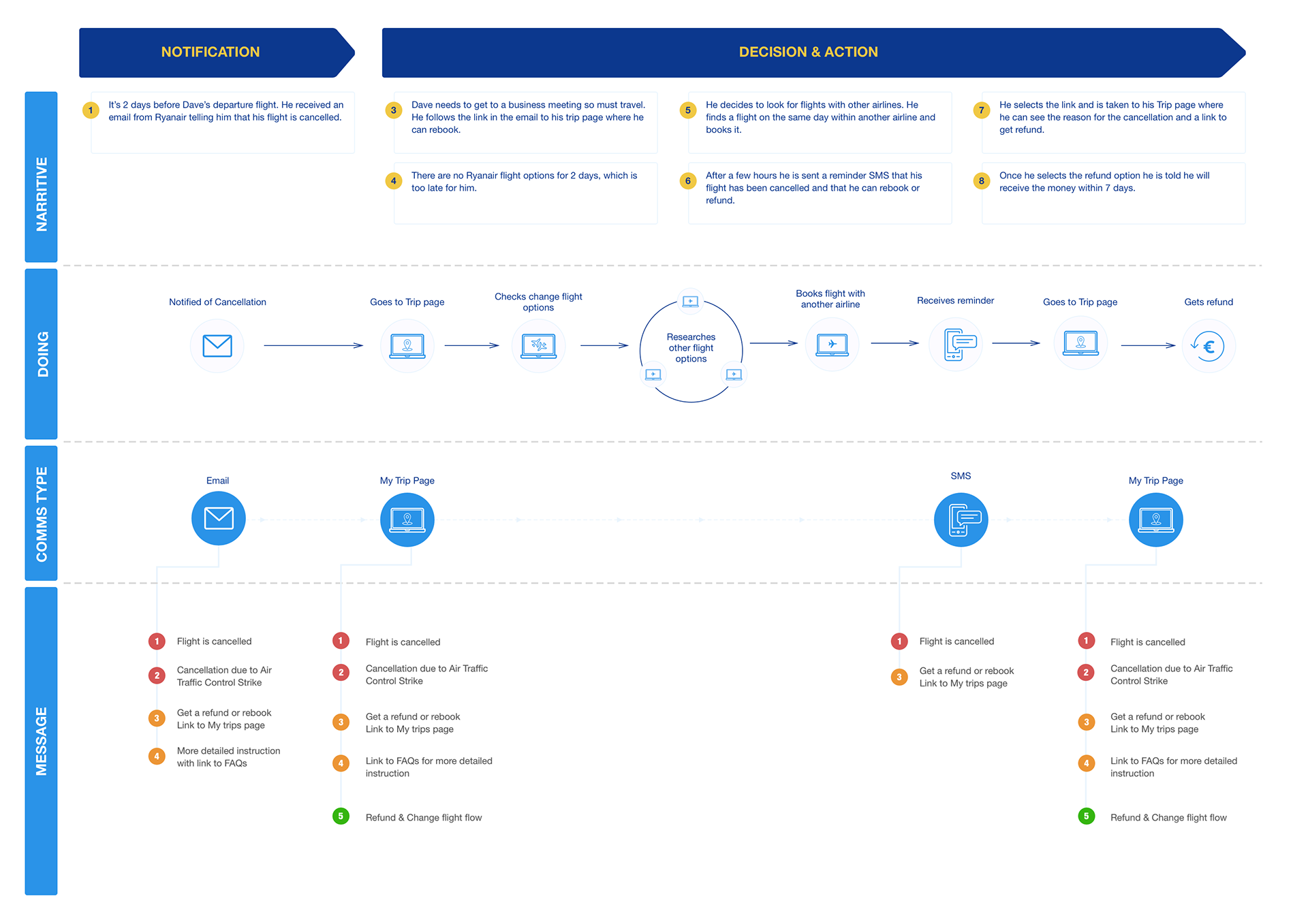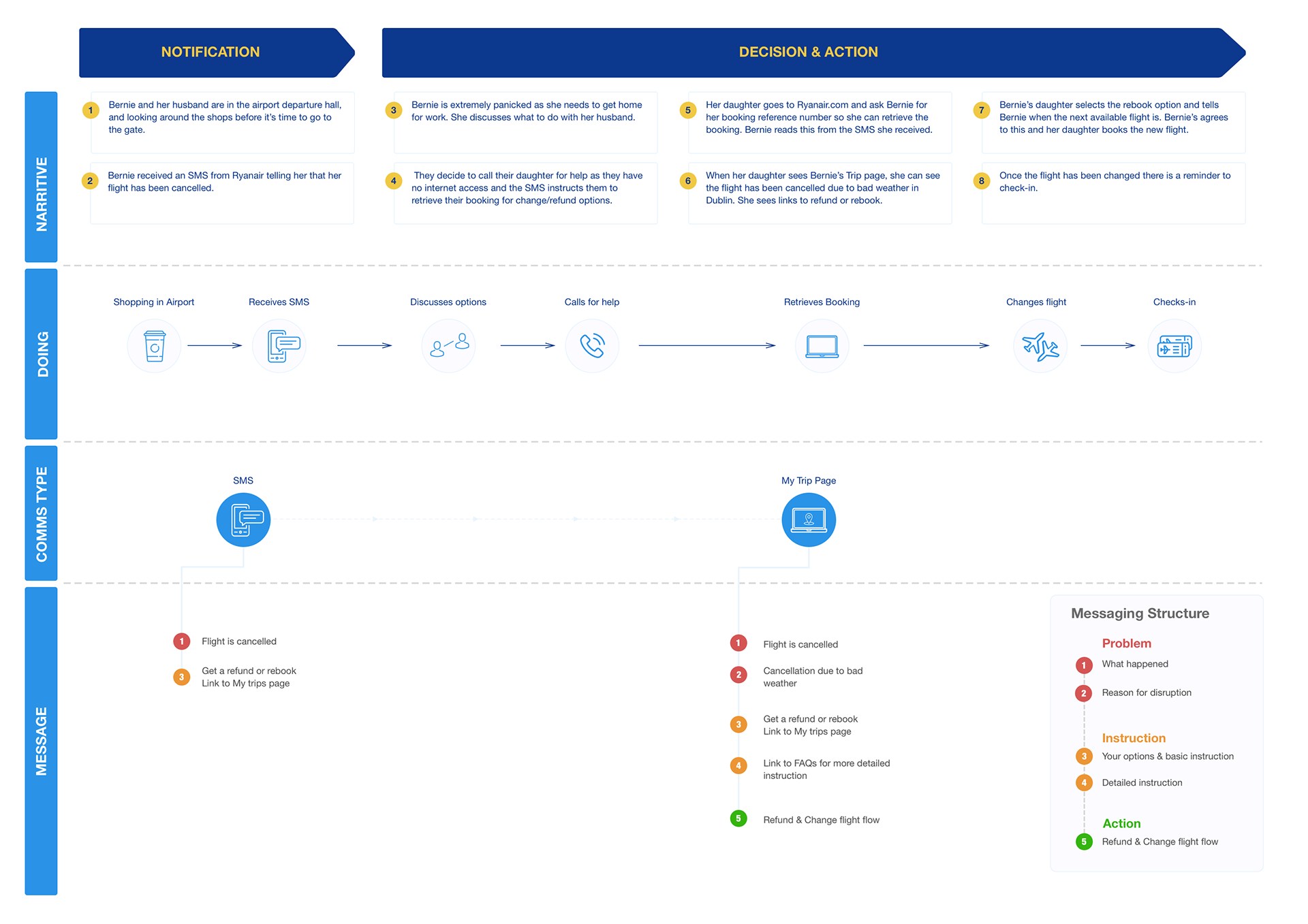 6. Write and design new communications
With content goals like simplification, transparency and good visual hierarchy we worked on reviewing all communications which included emails, website content, text messages and verbal announcements.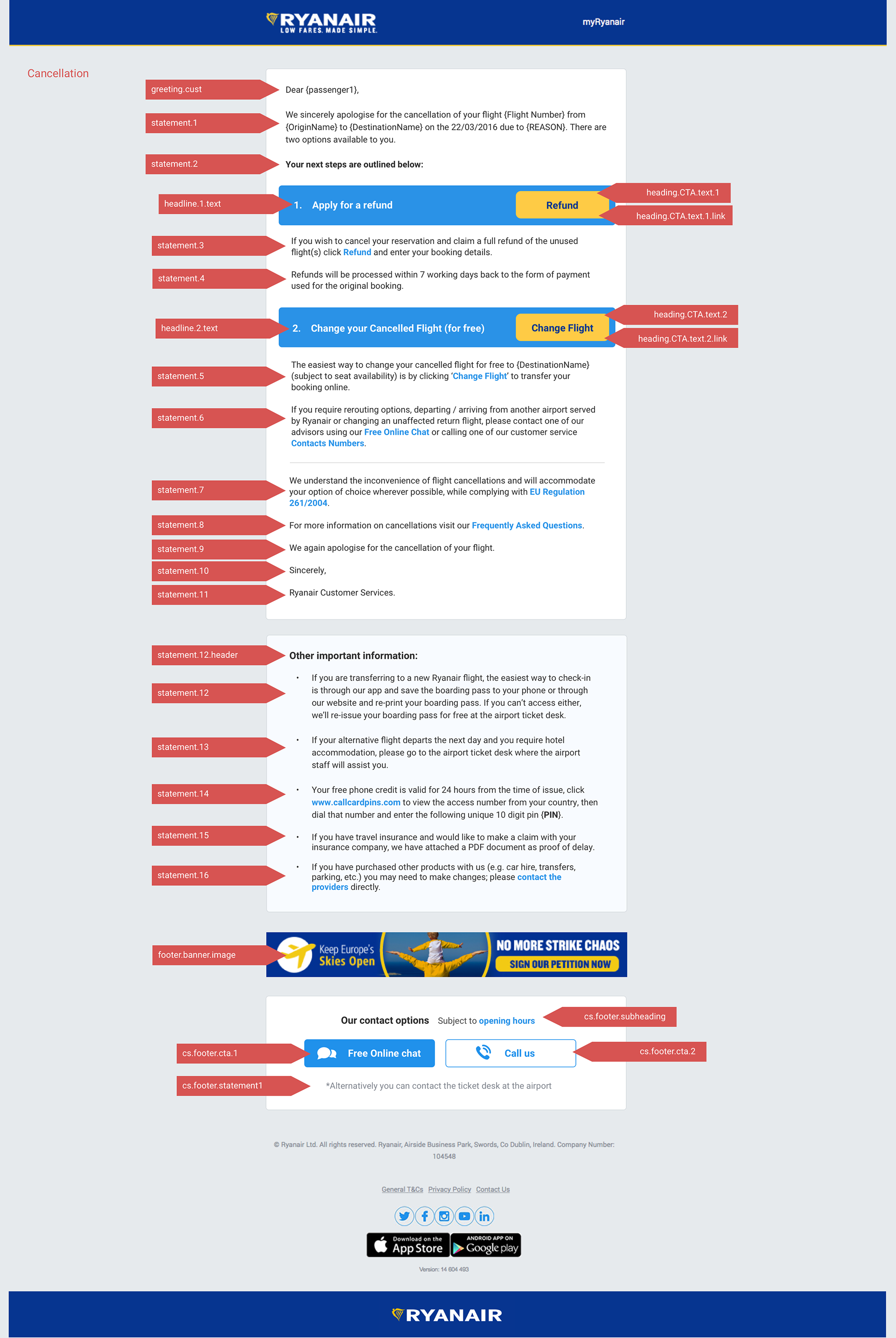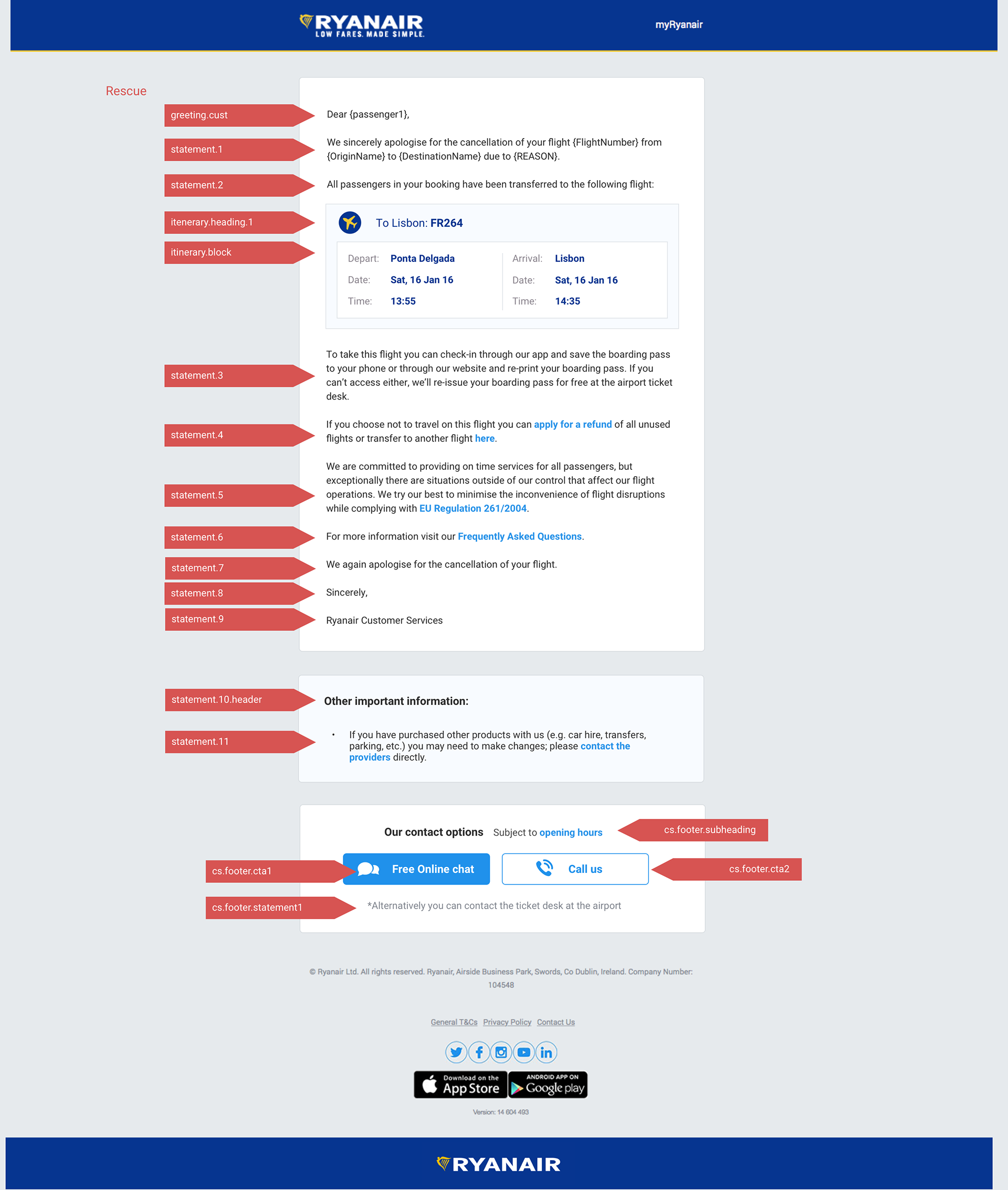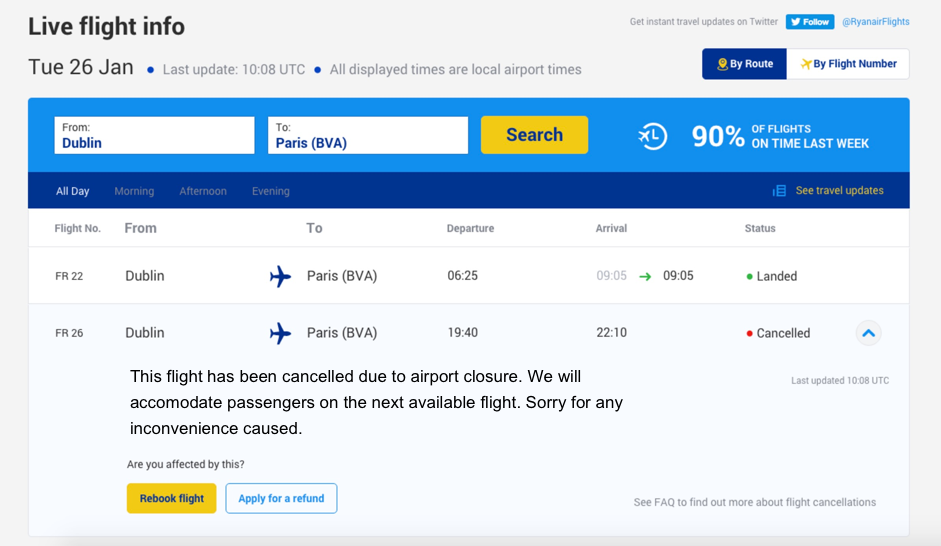 The last part of this project was to deliver a content style guide to help the team write content in the future.
Following two of the pillars of Ryanair's tone of voice and focusing on the concepts of Brutally Simple
(
we tell it straight and we tell it quick
) as well as
Fair and Open
(.
..we look to tell them 'the good, the bad and the ugly'
), we developed a brief communication guide for writing content in the event of disruptions.
Key principles:
Short, Simple and Scannable
Be personal
Active voice instead of Passive voice
Informative and Actionable
Hierarchy
Empathy
Personalisation
Avoid all caps and exclamations
Transparency